Many of us having desktop and laptops and for sure we share those with our family or friends. In many of these occasions we get afraid of people intrusion into outlook. The archieved mail can be seen or read by anyone who opened outlook. (Note: The case is, if the user knows your windows login or no windows login at all.)
So as to make sure that nobody can access our mail archive in outlook, we can protect them using a password. Yes we can.
Hey please note that this method of password protection is for the ".pst" file only not to each and every mail, Also I'm not sure that it can be cracked or not.
Now let us see how it can be done.
Go to Tools --> options, a popup menu will be opened shown.
Click on the Mail Setup tab. a popup menu will be opened shown.
Then click Data Files button. Another popup menu will be opened.
Select the required personal folder. In this case it was one; In case you use more than one personal folder select the one which needs to be protected. Click on the Settings button. A popup will be opened again!
Click on the Change Password button, one more popup menu will be opened as shown below. Hey don't get tensed this is the last popup. Leave the Old password to blank and type in your password at the text box of "New password" and "Verify password" as shown.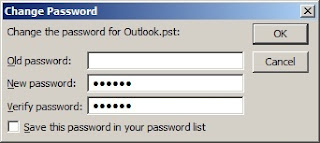 That's it. Click OK, Exit Outlook and reopen it. A popup menu was opened as shown below.
Now the gate was closed and you will not be permitted to go beyond this point unless you provide the key, yes it's your password. Be in peace while next time you share your lap or desktop with others.
Like it? Your comments are most welcome.